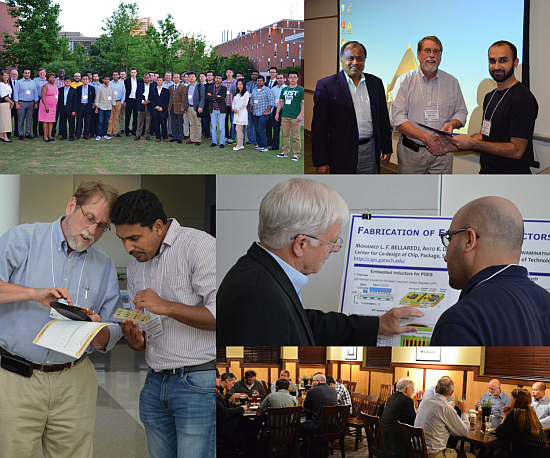 Industry
Innovations that solve societal problems and lead to positive economic impacts often result from collaboration between research-intensive universities and external partners. Therefore, the impact of innovation ecosystems, where invention, insight and translations of ideas to products which happen through a systematic collective outcome of companies, non-profits, government agencies, educational and research institutions working together, is unparalleled.
Industry Engagement Modes and Methods
The C3PS vision is to enable a global ecosystem in support of the co-design of chips,packages, and systems that engages industry, academia, and government agencies during the performance of basic research through to the realization of new products which incorporate new or incremental discoveries. Towards this goal, the C3PS industry engagement model consists of a multi-level, tiered-value proposition for industry participation with Georgia Tech academic and research faculty, programs and centers.
Membership Benefits
| | |
| --- | --- |
| Key Reports, Information and Research and Participation Benefits | Full Research Sponsor  |
| IEN Advisory Meeting Participation | Yes |
| Supply Process Service and Materials | Yes |
| Provide Equipment | Yes |
| Access to GT Faculty for Advisory and Consulting | Yes |
| Access to GT Students for Internship or Hiring | Yes |
| Participation/Hosting of Technical Seminars at GT | Yes |
| Research Program/Consortia Advisory Meeting | Yes |
| 6 Month Updates in all Focused Projects | Yes |
| Monthly Program Update Webinar | Yes |
| Test Vehicle Information and Supply Chain Participation | Yes |
| Co-authorship of Journal Papers | Yes |
| Co-Invention Opportunity | Yes |
| Participation in Commercialization Path | Yes |
| Research Program Shaping and Project Steering | Yes |
| Research Project/Student Mentoring | Yes |
| Dispatch Engineer to Georgia Tech Campus | Yes |
| Detailed Reports for Steering Programs | Yes |
| Critical Feedback for Focused Research Programs | Yes |
| Selected One-on-One Research Project of Focus | Yes |
| Definition of Research Test Vehicle/Prototype | Yes |
| Non Exclusive Royalty Free I/P Rights | Yes |
| Potential for Exclusive I/P Rights | Yes |
Contract Continuum
At Georgia Tech, investing in research is a top priority. As part of that commitment, the university has developed four contract mechanisms that enable industry to engage with Georgia Tech researchers at all stages of R&D. These agreements were carefully crafted to streamline the contracting process and provide straightforward intellectual property terms for companies engaging in collaborative research. The four contracting mechanisms are as follows: -
Basic Research: Explore fundamental challenges in a technical area
Applied Research: Identify solutions to real-world challenges
Demonstration: Improve an existing technology
Specialized Testing: Test new and existing products
For more information, FAQs, and other details pertaining to the Georgia Tech Contract Continuum, please visit our Industry Engagement site at http://industry.gatech.edu/contract-continuum-researchers